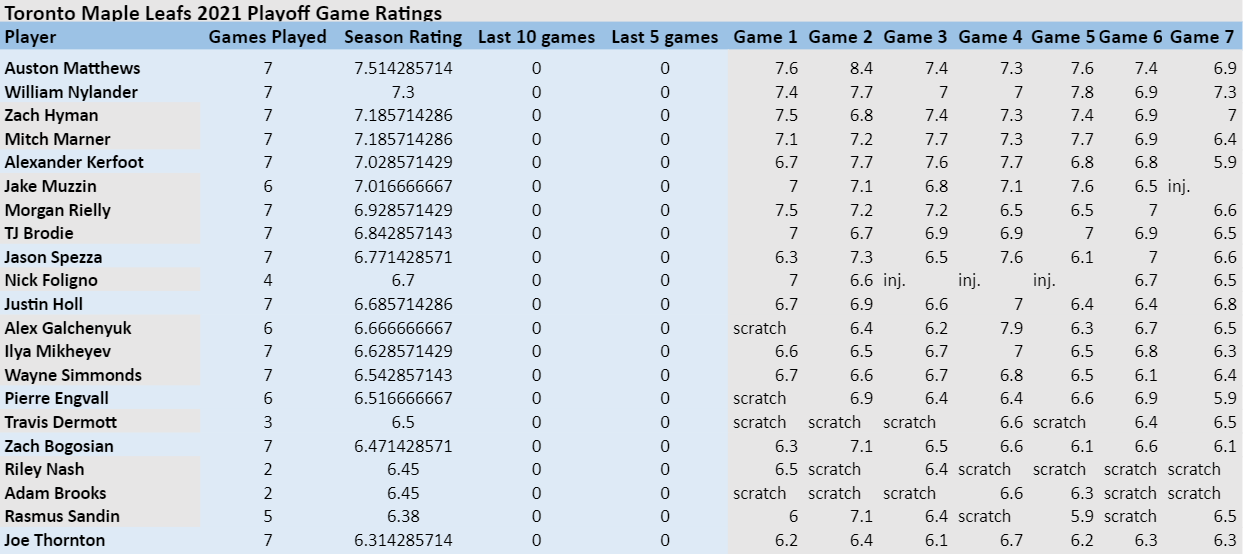 *The above ratings include an additional eye-test rating*
Being outside of Leaf Nation, I thought it would be interesting to track their games in the playoffs and give player ratings for each game for the Maple Leafs. As an impartial observer, I assumed that I would do more than seven games. This process confirms to me that players have ebbs and flow from one game to another and only the best of the best are consistent night in and night out.
I'm sure every fan of the Maple Leafs is in disbelief and is hurt from losing this series, but to point at one or two individual players as the cause is just an overreaction. To do so is to avoid the other issues that were a much bigger cause to the end result. Yes, Mitch Marner hasn't scored in 18 straight playoff games and yes he and Auston Matthews have only four points combined in seven elimination games, but these two are elite talents that teams envy. It would be a mistake to move either of these players at the age of 24.
The bigger issues that came into play were an inept power play, lack of secondary scoring, key injuries to John Tavares, Jake Muzzin and Nick Foligno and just being outworked when it mattered most. Wayne Simmonds, Pierre Engvall, Zach Bogosian, Rasmus Sandin and Joe Thornton were not even close to being good enough to contribute to winning the series. Add the inconsistencies of Jason Spezza, Morgan Rielly, Alex Galchenyuk and Justin Holl and it further exacerbates the issues facing this team. Marner and Matthews were just two pieces to the puzzle that cost this team, not the only two pieces.